Confidence
Taekwondo assists in building student confidence through positive attitudes and support from Instructors. As students learn and master new skills they feel a sense of pride, and grow to become more confident in themselves as they see their own progression.
Endurance
Students improve their mental endurance as they work through each challenge they face. At times, students may find a new technique difficult, or struggle to stay motivated due to outside pressure, but as they persevere, students will build their mental endurance and will see benefits throughout their lives.
Focus
Students in our classes learn to improve their focus through concentration on the multiple aspects of each Taekwondo skill. This improved focus also assists in improving concentration at school, and in other aspects of learning.
Leadership
Taekwondo students learn leadership as they build both confidence and respect. We at Taekwondo World believe we are training the next generation of leaders, and strive to instil in each of our students the skills to assist them in their futures.
Respect
Students learn to show respect to their instructors and peers through bowing, attentiveness and sportsmanship. Students are also taught to show respect outside of Taekwondo, through using kind words and listening to others.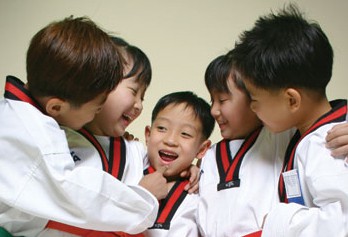 Sociability
Students benefit from group lessons by having an opportunity to learn with small groups of their peers. This allows students to be comfortable with other children, and also assists in improving their social interactions.