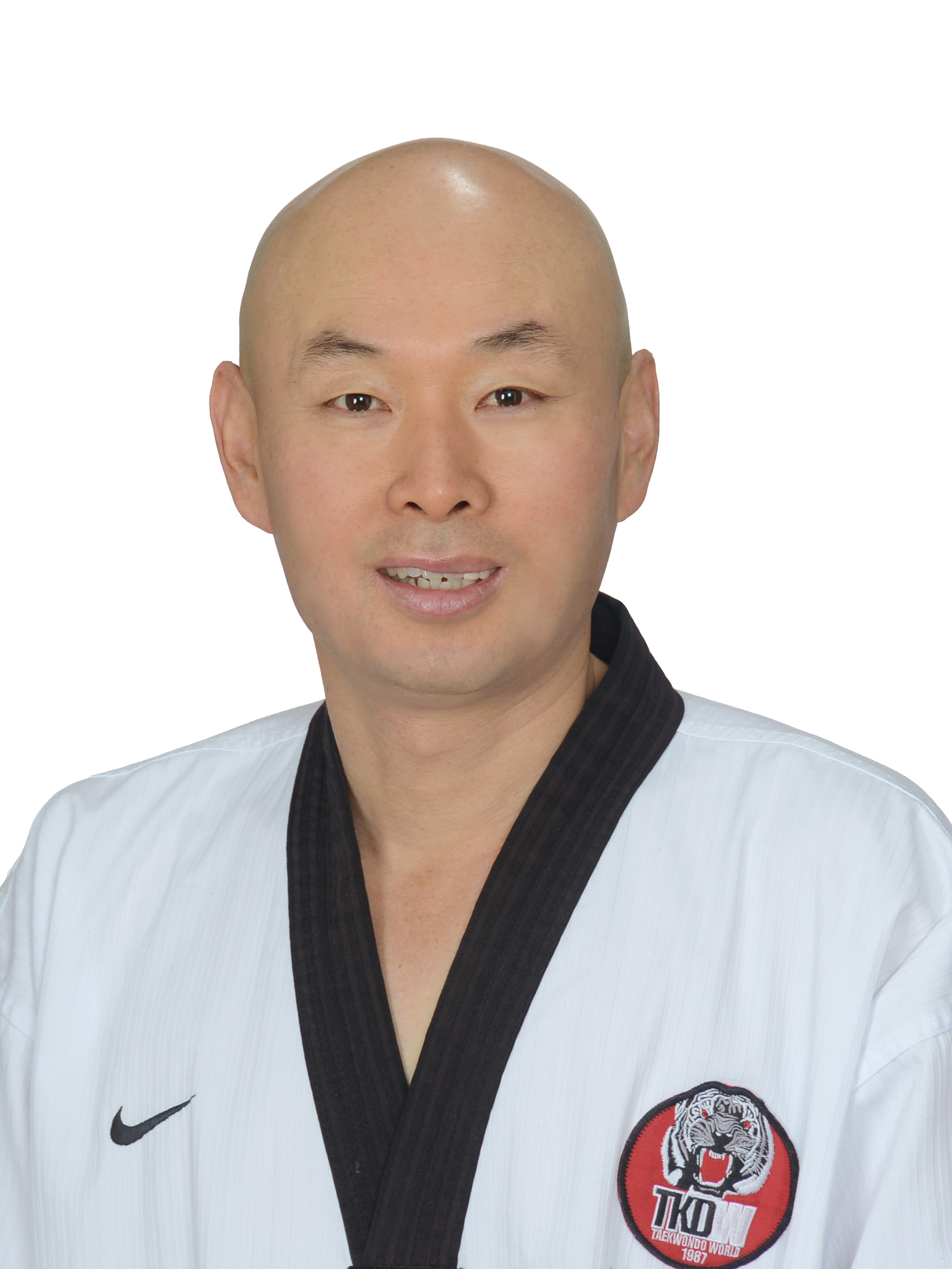 Grandmaster
Instructs at
Castle Hill
Hurstville
North Rocks & Carlingford
In Cheol Yoo
Our Grand Master is Master Incheol Yoo.
When he arrived in Australia in 1987, Master Yoo started a Taekwondo School in Hurstville and Castle Hill. Under Master Yoo's supervision and tutelage, Taekwondo World has since grown to 3 Full-Time Centres, 2 Part-Time Branches and 3 school outreach programs, along with school holiday clinics and other extra-curricular activities. In his many years of teaching in Australia, Master Yoo has coached thousands of students, who have fallen in love with Taekwondo. We are now seeing 2nd and 3rd Generation students come through our doors, and learn under the same tutelage as their parents and grandparents before them.
To this day, Master Yoo's goal is to promote health and wellbeing in all of our students through practice of the philosophical values of Taekwondo. These values of respect, restraint, commitment, strength, patience and loyalty are taught to all our students, from our Little Tigers to our Adults.
Master Yoo's Qualifications and Experience Include:
9th Dan Black Belt from the Kukkiwon – This is the highest level of any Black Belt in Australia, and is among the highest ranks available to members of the World Taekwondo Federation.
Almost 50 years experience as a Taekwondo Instructor in Korea and Australia, including coaching 2 World Champions and 20 National Champions.
32 years as a National and International World Taekwondo Federation-recognised referee.
Masters Degree, Diploma and PhD in Physical Education, Majoring in Taekwondo.
Attended Yong- In University, a prestigious Korean university that specialises in producing Taekwondo Master Instructors
Currently an Honorary Professor at Chungbuk Health and Science University in Korea

Throughout his career, Master Yoo has also held a number of important roles in the national and international Taekwondo community.

These roles include:
Co-ordinating the Broadcast of the Taekwondo Event for the Sydney Olympic Games in 2000
Head Coach of the Australian Team at the Kyonggi International Taekwondo Championship
Chairman of Sports Taekwondo Australia NSW Inc.
Vice-President of the Korean Taekwondo Association of Australia
Kukkiwon World Taekwondo Headquarters International Advisory Committee Member
Member of the Sports Taekwondo Australia Grand Masters Advisory Committee
Master Yoo continues to ensure that his knowledge and skill are passed down to our Instructors by regularly attending and participating in seminars, in both Korea and Australia. In the future, he hopes to continue the growth of Taekwondo in Australia and throughout the world. 


Master Yoo currently instructs at our Hurstville Centre, North Rocks & Carlingford Branch and our Castle Hill Headquarters.
Taekwondo World Master
Instructs at
Homebush & Strathfield
Eastwood
Byunggee Yoo
Mr. Byunggee Yoo has 13 years championship experience and has graduated from the Yong In University in Korea where he completed his diploma in education and a major of Taekwondo. Teaching Taekwondo in Australia since 1992, Mr. Yoo has produced numerous world class champions, top tier instructors and coaches, and even raised a Hollywood actor through his systematic training methods of incorporating the principles of sports performance.
Mr. Yoo fully understands the way to teach discipline and honesty through being raised by a school principal. He lived with strict rules to follow, making him very responsible.
Mr. Yoo firmly believes in the physical, mental and emotional benefits of Taekwondo. He has seen his students develop their muscular strength, muscular endurance and speed through the practice of Taekwondo. Mr. Yoo also teaches his students with a strong sense of justice and fairness. Furthermore his students have enjoyed great flexibility and have found that after Taekwondo training sessions, they feel more relaxed.
Mr. Yoo has now grown a successful full-time gym, to be built as a safe community. Mr. Yoo is a role model to his students from his approachability due to his friendly manner. The students respect their Master's honesty and hard-working spirit which lead to the ability to communicate with individuals from diverse cultural and socio-economic backgrounds.
Instructor
John Yoo
John is currently a 3rd Dan black belt who has been training Taekwondo for the last 11 years. John began training in 2004 when he was 4 years of age. John was born in Sydney, Australia and has lived in Australia for all his life. For the last 3 years, John has been participating in both state and national tournaments around Australia winning both silver and gold medals.
John teaches at the Homebush/Strathfield Centre and loves working with all age groups. John has gone through a strict training program for instructors and learnt how to convey his teachings in a professional way. John has a passion for teaching and developing Taekwondo skills to students and loves interacting with his students.
Throughout John's years of practising and instructing Taekwondo, John has developed a wide range of skills and techniques to teach any student and any belt. John uses skills he learns from past lessons and immediately implements them. John can teach a wide range of students from his abilities to change his ways and techniques of teaching to suit the students capabilities.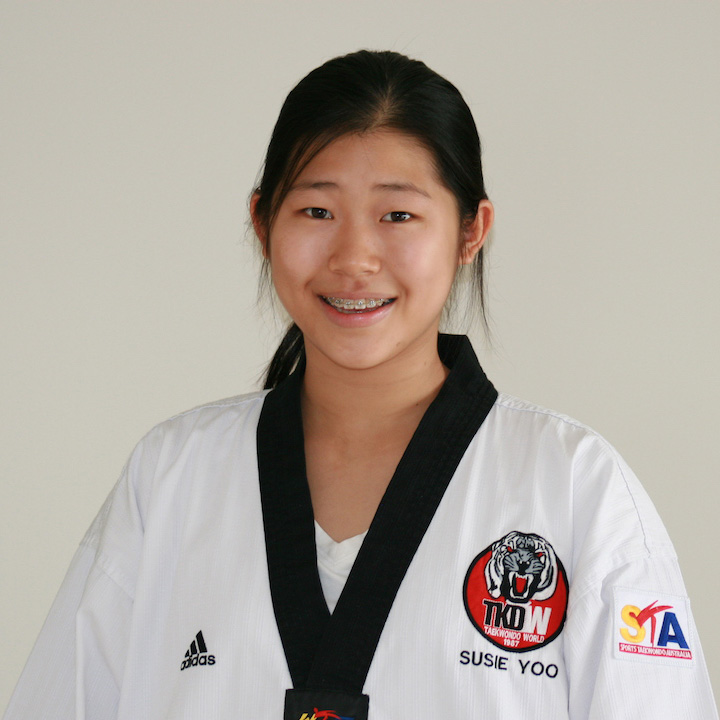 Instructor
Susie Yoo
Instructor Susie Yoo has been involved in Taekwondo World since 2005 and is currently a 3rd Dan Black Belt. Susie Yoo matured within the Taekwondo environment and understands the significance of defence. Instructor Susie Yoo strives to be a successful Taekwondo athlete, by competing in many State and National tournaments. Susie Yoo has achieved many trophies of Gold, Silver, and Bronze and is still currently preparing for future upcoming tournaments.
Susie Yoo believes that Taekwondo influences her healthy mind set; that is to overcome barriers and reduce the amount of stress. She is recognised as to being sporty person and having a courageous attitude. Instructor Susie Yoo presumes that Taekwondo is a 'hill' that a student should hike over and discover their successes at the other side.
Susie Yoo feels honored to be an instructor for the the elite club, Taekwondo World. She feels rewarded by having the opportunity of transferring her knowledge to students, and imagines whether if her students will one day become instructors and pass this knowledge to their students.
Instructor Susie Yoo has been teaching for two years at Taekwondo World. Susie Yoo is an inspiration and has the ability to teach and improve the skills of students. Not only the skills and the techniques of Taekwondo, but also Instructor Susie Yoo focuses on the positive mentality of students. Taekwondo is an essential part of Susie Yoo's life and recommends interested people should definitely try out this amazing sport.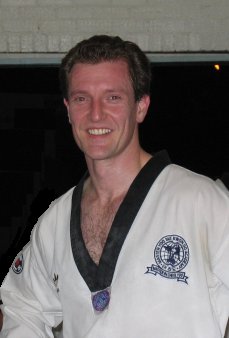 Instructor
Danny Biggatton
I have been involved in Taekwondo for the last 13 years. During this time Taekwondo has provided me with many opportunities to develop further as an individual, learn from internationally respected Masters, meet new people and travel to a number of different locations which otherwise I may not have had the opportunity to do.
As part of my time associated with Taekwondo, I have had the opportunity to officiate at a number of different International and National tournaments both as a referee and as a technical specialist. These included Olympic and World Championships, Junior Olympic Games, National Championships and various State and local tournaments.
I find that Taekwondo offers a number of rewards other than the obvious physical benefits. One of the more rewarding aspects is the opportunity to pass on your knowledge to students, watching these students develop and mature into competent martial artists and then should they have the desire, to take them on to become great athletes and spokespeople for both the Martial Art and the sport. We believe in success being a journey not a destination!
The classes are designed to assist you in developing into a competent overall Taekwondo practitioner. Classes are designed to cover all aspects of Taekwondo such as basics, sparring technique, self defence, sport taekwondo etc. Further in any particular session additional focus is placed on one of these aspects in order to increase learning or provide fine tuning.
So, if you have not had a go but have always wanted to try, why not drop in to our Peakhurst gym and talk to one of our instructors about your goals.
No one knows what they can achieve until they try!
Instructor
Instructs at
Castle Hill
West Pennant Hills
Michael Pupo
I started training with Grandmaster Yoo at the age of 8 and have been practicing taekwondo for over 25 years. Now that I am an instructor myself with over 16 years teaching experience, I can see my students getting the same benefits and joy from the sport that drew me to Taekwondo when young.
Being part of Taekwondo World has given me many opportunities to work with the community and one of my proudest contributions is running women's self defense programs for all ages. Seeing the growing self confidence and strength reflected in my students during these courses has been a remarkable and rewarding experience.
Teaching at a number of places over the years, I have trained people of all ages and fitness levels. In recent years I have been teaching fitness to people with disabilities and some rehabilitation training for people recovering from injuries. My programs have been included at events such as the Mind Body Spirit festival Sydney, Fitness Awareness week at Macquarie University Hospital, NSW Health and at Crosslands Youth camps.
Currently I am the head coach at the prestigious Pymble Ladies College, with over 16 years experience teaching the girls Taekwondo World's traditional Martial Art incorporating self defense, sparring and our challenging and fun fitness program.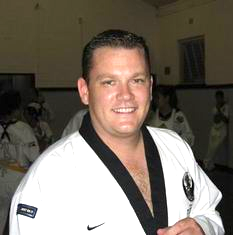 Simon Bartush
I began learning Taekwondo back in 1987 in Master Yoo's first class in Hurstville. I got to see the fill up and met some great people along the way. I found Taekwondo to be both a great challenge but also very satisfying once I could perform the techniques I was taught. I was 12 years old and about to start high school, I had tried all the usual sports (soccer, football, cricket, etc) and found I had no passion for them, I was just going to them to try different things, knowing that I would find the sport for me.
Then I came across Master Yoo's pamphlet in my letter box and went to check it out that night. I was invited to try that night and knew that I had found my sport. As I continued 3 nights a week I quickly saw my flexibility and techniques improving at a rapid rate, sure there were plenty of times I was sore for a couple of days and had jelly legs from hard training, but it was all worth it. After all what else should I expect from training with the Highest Ranked Taekwondo Master in Australia, Master Incheol Yoo.
Not only did I learn a sport, but I got a bonus as well, I was learning a life skill of self-defence which had numerous benefits. I gained a level of confidence and security I never had before, this aided me greatly through my school years and definitely helped mould me into the person I am today.
Learning Taekwondo from as young an age as possible has a lot of character building aspects and very importantly it helped define my upmost respect for others and property.
I had taken a break between 1995 and 2005 for several reasons. I returned to train under Master Yoo again who welcomed me unconditionally. After training for a while and getting my muscles used to training again I was offered an opportunity to learn instructor techniques and methods which I accepted instantly, I always wanted to teach what I learned along side Master Yoo.
I am now teaching at the Hurstville club and enjoy seeing all the great students both kids and adults develop their skills just as I had. This time I am very happy to be teaching and watch students improve and develop their skills.
Taekwondo is a sport and a martial art, I strongly recommend that children and adults try Taekwondo at Taekwondo World to improve their general well being and fitness as well as learning a valuable skill that helps you in so many ways and could one day save your life!!
Michael Kingswell
I have been practicing Taekwondo for the last 17 years and started Instructing in 1998 in Bligh Park. In that time I have been involved with refereeing and tournament coaching and was proud to be a T/A at the pre Olympic selection trials in 1999. I enjoy passing on my experience and watching students learn and grow to become themselves skilled blackbelts.
The classes at Bligh Park are open to all ages regardless of fitness level. Our training programs and safe, friendly environment will ensure that all students achieve and exceed their fitness target in relatively short period of time. You will be surprised what you can do if you just make the effort.
Michael Kingswell instructs at Bligh Park.